Powerful but fragile rapid pulse laser pistol. Prone to burning out.
Requirements
Notes
Can hold 3 bio mods. While the Pulsar Pistol can be found in any version of the game, it can be Crafted starting with the Mindgames expansion.
Recipes
Ingredient
Not an ingredient in any recipe.
Created
Result
Ingredient 1
Ingredient 2
Ingredient 3
Ingredient 4
Ingredient 5

Skill: Electronics


Effect: Multi-target Pistol weapon.
In-game info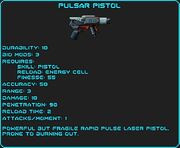 Ad blocker interference detected!
Wikia is a free-to-use site that makes money from advertising. We have a modified experience for viewers using ad blockers

Wikia is not accessible if you've made further modifications. Remove the custom ad blocker rule(s) and the page will load as expected.