This Morrigi version of the light laser pistol is a standard sidearm for many Morrigi males in combat situations. It does not do as much damage as the human version but has slightly better penetration, long range accuracy and is more energy efficient.
Requirements
Notes
Can hold 2 bio mods. Morrigi Striker starting pistol.
Recipes
Ingredient
Not an ingredient in any recipe.
Created
Not created by any recipe.
In-game info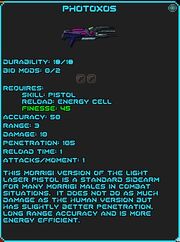 Ad blocker interference detected!
Wikia is a free-to-use site that makes money from advertising. We have a modified experience for viewers using ad blockers

Wikia is not accessible if you've made further modifications. Remove the custom ad blocker rule(s) and the page will load as expected.