An ancient Morrigi weapon capable of weakening the molecular bonds of whatever non-organic material it hits. Does extra damage to armor and equipment and is devastating to non-organic opponents.
Requirements
Notes
15 damage vs Mechs, unknown vs Organics
Recipes
Ingredient
Not an ingredient in any recipe.
Created
Not created by any recipe.
In-game info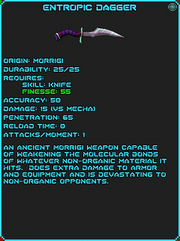 Ad blocker interference detected!
Wikia is a free-to-use site that makes money from advertising. We have a modified experience for viewers using ad blockers

Wikia is not accessible if you've made further modifications. Remove the custom ad blocker rule(s) and the page will load as expected.