An advanced piece of biotechnology that pulls energy from the body of the user and focuses it into an energy blast. Constant use will make the user ravenous.
Requirements
Notes
Can hold 2 bio mods. Takes no ammo, but increases hunger.
Recipes
Ingredient
Not an ingredient in any recipe.
Created
Result
Ingredient 1
Ingredient 2
Ingredient 3
Ingredient 4
Ingredient 5

Skill: Biotech


Effect: Pistol weapon, takes no ammo, but increases hunger
In-game info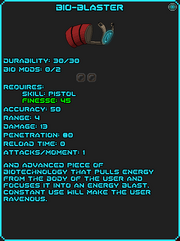 Ad blocker interference detected!
Wikia is a free-to-use site that makes money from advertising. We have a modified experience for viewers using ad blockers

Wikia is not accessible if you've made further modifications. Remove the custom ad blocker rule(s) and the page will load as expected.